Fusion Bonded Epoxy Coated Steel Pipe

Fusion bonded epoxy coating, also known as fusion-bond epoxy powder coating and commonly referred to as FBE coating, is an epoxy-based powder coating that is widely used to protect steel pipe used in pipeline construction from corrosion. It is also commonly used to protect reinforcing bars and on a wide variety of piping connections, valves etc.FBE coatings are thermoset polymer coatings.[3] They come under the category of protective coatings in paints and coating nomenclature. The name fusion-bond epoxy is due to resigning cross-link and the application method, which is different from a conventional paint.
The resin and hardener components in the dry powder FBE stock remain unreacted at normal storage conditions. At typical coating application temperatures, usually in the range of 180 to 250 °C (356 to 482 °F), the contents of the powder melt and transform to a liquid form. The liquid FBE film wets and flows onto the steel surface on which it is applied, and soon becomes a solid coating by chemical cross-linking, assisted by heat. This process is known as "fusion bonding". The chemical cross-linking reaction taking place in this case is irreversible. Once the curing takes place, the coating cannot be returned to its original form by any means. Application of further heating will not "melt" the coating and thus it is known as a "thermoset" coating.For more information,welcome to Contact Us.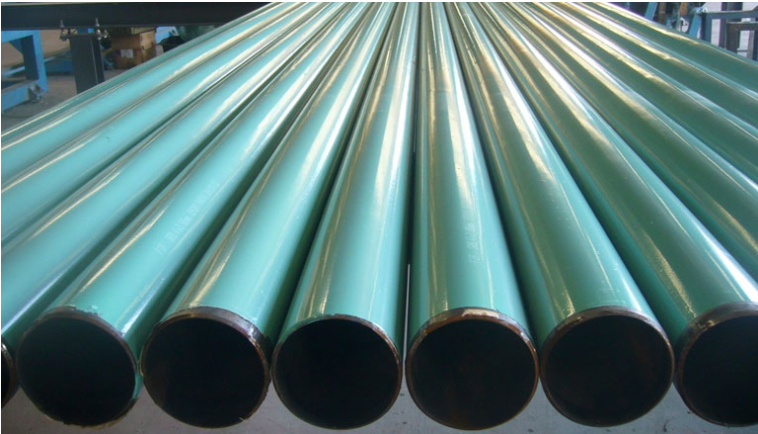 The constituents of an Epoxy Coating includes a resin as well as a polyamine hardener. The polyamine hardener is also referred to as a catalyst. Once both the resin and hardener have been mixed, they engage in a chemical reaction which results in the formation of cross-links between the elements, once the mixture has been cured. A fully cured product results in an Epoxy Coated Pipe is a strong and rigid type of plastic coating with copious levels of sought-after mechanical properties. Epoxy coatings are distinguished for their exceptional mechanical characteristics. The epoxy coated ductile iron pipe exhibits mechanical properties such as hardness & durability, in addition to abrasion resistance, impact & chemical resistance.
The corrosion resistance properties of an Epoxy Coated Carbon Steel Pipe to attack from chemicals, for instance, those ascertained in oils, cleaners or bleach, make epoxy coatings a popular protective medium, especially in applications involving the automotive industry. Extensively, the use of a fusion bonded epoxy coated carbon steel pipe in the oil & gas as well as the water/wastewater industry. These products aid in the protection of assets from corrosion in these industries. Besides being a non-toxic coating, the epoxy coated steel gas pipe has a smooth surface, thus making for an easy to clean and maintain the product. Another benefit of using epoxy coated black iron pipe is that they tend to withstand extreme temperature settings, as they are unaffected by heat up to a temperature of 390 °F while being resistant to water.
Features of Fusion Bonded Epoxy Coated Steel Pipe
1. FBE coating is resistant to corrosion and chemical corrosion
2. FBE coating has strong adhesion to steel, complete film, soil stress resistance and good wear resistance.
3. FBE coating prolongs the service life of steel pipe.
4. FBE coating can be used for external anticorrosion of buried or underwater steel pipe installations with operating temperature of -30~100℃.
5. On the other hand, FBE steel pipe has the disadvantage of poor resistance to mechanical damage and poor resistance to moisture and heat.
6. It has high resistance to cathodic disbondment
7. FBE coating increases the life span of steel pipes providing a constant performance throughout its life span.
8. The FBE coating has high bond strength and bond firmly to mild steel pipe surface.
Advantages
Fusion bonded epoxy (FBE) coating is a type of coating used to protect steel pipes from corrosion. There are several advantages of using FBE coating on steel pipes, including:
1. Corrosion resistance: FBE coating provides excellent corrosion protection to steel pipes, making them suitable for use in harsh environments where corrosion is a significant concern.
2. Abrasion resistance: FBE coating also provides excellent resistance to abrasion, making it ideal for use in applications where pipes are subject to wear and tear.
3. Chemical resistance: FBE coating can resist a variety of chemicals, including acids, alkalis, and solvents, making it ideal for use in industrial applications.
4. Thermal stability: FBE coating has excellent thermal stability, making it ideal for use in high-temperature environments.
5. Adhesion: FBE coating has excellent adhesion properties, which means it bonds well to the surface of the steel pipe, providing long-lasting protection against corrosion.
6. Cost-effective: FBE coating is a cost-effective way to protect steel pipes from corrosion, as it requires minimal maintenance and can last for many years.
Overall, the use of FBE coating on steel pipes provides a reliable and cost-effective way to protect them from corrosion, abrasion, and chemical damage, making them suitable for use in a wide range of applications.
The Importance of Fusion Bond Pipe
Pipe and piping is an essential component for many businesses, especially the OCTG industry. Carbon steel pipe is commonly used in a wide range of applications and because steel is subject to oxidation and corrosion, the steel must be protected. One of the most popular and cost effective ways to protect piping, involves fusion bond pipe coatings. This process provides a number of benefits and can serve many different uses.Welcome to Contact Us when you free.
Application
You will find FBE coated pipe in many applications today. Here are just a few
1. Oil Pipelines
2. Natural gas industry
3. Refineries
4. Sewage treatment facilities
5. Water treatment applications
6. Electric power plants
7. Food handling industry
Epoxy Coated Pipe specification Format
Commodity

FBE Coated carbon steel pipe

Size

O.D

4''-48''.

Thickness

2mm-45mm

Length

As your requirement.

Standards

API 5L-2009; ISO3183-2007;DIN30670,30678(Coating)

Steel Grades

Gr. A GrBx42x46x52x56x60x65x70, L245 etc.

internal coating

cement mortar lining; bitumen coating; liquid epoxy

external coating

FBE.

Manufacture

Process

Hot rolled/ Hot Expansion

Main Application

The external coating is mainly used for anti-corrosion protection for liquid pipes before burying. Such pipe has been widely used in rugged environment.

Min quantity

5 tons, more quantity price will be lower.

packing

both sides with end caps, in bundles by steel strips. In hexagonal shape bundles wrapped with strong steel trip 2MT/bundle.

Delivery time

20-25days after receiving your deposit or L/C.

Payment

TT or 100% Irrevocable LC at sight. We can discuss.
1) Standard: API Standard: API 5L, ASTM A106.ASTM A53,ASTM A135,ASTM A179,ASTM A214,ASTM A192,ASTM A226,ASTM A315,ASTM A178,ASTM A210,ASTM A333,ASTM A355,ASTM A369,ASTM A334 ASTM/ASME A312/SA312, ASTM/ASME A213/SA213, ASTM A269,ASTM 511,API5L,API5CT, GOST 9940,GOST 9941,JIS G 3459, JIS GS3463, GS3467, JIS G3448, DIN EN 10216-2006(DIN 17458) , DIN EN 10297-2006(DIN 17456) etc.
2) Steel Grade: ASTM A106 GRB,A53 GRB. API 5L GRB,API 5 CT N80,K55,A335 P11.P91,DIN ST52,ST44,ST35.8,ST37,ST42,ST45
3) Outside Diameter: 1/2"-48" Or 21.3-3220mm
4) Wall Thickness: 2.11-59.54mm
5) Application:The products are widely used in fertilizer, petroleum, central-station, boiler, power station, shipping military, chemical industry, environment protection, traffic, metallurgy and mine, printing and dyeing, food industry, medical equipment, and so on.
Details of Fusion Bonded Epoxy Coated Steel Pipe
Totally encapsulates base metal.
Excellent adhesion and toughness.
Excellent corrosion resistance.
Size: 4" - 88"
Wall Thickness: 2-60mm
Material: GR.A,GR.B,X42-80
Surface:FBE coating
MOQ: 1 ton
Certificates: API 5L, ISO9001:2008,SGS,BV,CCIC,
DURING THE FBE PROCESS
FBE coated steel pipe is fused epoxy coated steel pipe. It is an external thermal resin used in pipes. Once the FBE coating is on the pipe surface, the FBE film provides a very hard surface with great adhesion to the pipe surface. FBE layer has uniform shape and good chemical reactivity resistance.
Fusible epoxy (FBE) coatings are used to protect steel pipes from corrosion and harmful chemicals. This is a thin film coating made of an epoxy resin powder material that is applied to the pipe using a special coating device that is electrostatic sprayed. These FBE coated pipes can be used in dry conditions at temperatures up to 85℃.
Although fusion bond pipe is one of the most effective and durable coatings you can use, it can fail under certain conditions. However, most cases of failure are due to improper preparation of the pipe before coating application. This is why it is essential to choose a supplier with many years of experience and a company who is a leader in their field, like Pipefun Pipe and Fitting Facility. We have been serving customers since 2000, and today we supply an international market with both standard and line pipe products designed for a huge number of commercial applications.Welcome to CONTACT US when you free.
Welcome to choose our fusion bonded epoxy coating steel pipe!
Fusion bonded epoxy coating steel pipes are a type of pipe that is coated with a thermosetting epoxy powder. This coating is applied using an electrostatic process that ensures that the coating is evenly distributed across the surface of the pipe. The epoxy coating provides a protective layer that helps to prevent corrosion and extends the life of the pipe.

The fusion bonded epoxy coating steel pipes produced by Hebei Pipefun Pipe and Fitting Facility Co., Ltd. are of the highest quality. Our pipes are made using only the best materials and are manufactured to meet the strictest industry standards. Our team of 25 engineers and 89 skilled workers ensures that each pipe is produced with the utmost care and attention to detail.

Our fusion bonded epoxy coating steel pipes are certified to meet the requirements of ISO 9001 and API5L. This means that our pipes have been tested and approved by industry experts and have been found to be of the highest quality.

In addition to their superior quality, our fusion bonded epoxy coating steel pipes offer a number of benefits. The epoxy coating provides excellent protection against corrosion, which can be a major problem in many industries. This means that our pipes are ideal for use in harsh environments, such as offshore oil rigs, chemical plants, and wastewater treatment facilities.

Our fusion bonded epoxy coating steel pipes are also highly durable and long-lasting. They are resistant to abrasion and impact, and are able to withstand extreme temperatures and weather conditions. This makes them an ideal choice for a wide range of applications.

Overall, if you're looking for high-quality fusion bonded epoxy coating steel pipes, look no further than Pipefun. Our pipes are the perfect combination of durability, reliability, and performance, and are sure to meet all of your needs and exceed your expectations.