A range of factors, from composition to form, can affect the characteristics of stainless steel products. One of the most important considerations is which grade of steel to use. This will determine a range of characteristics of the stainless steel product and ultimately its cost and service life.
There are many stainless steel grades, such as stainless steel ASTM A403, WP304,304L, 316, 316L, 321.1Cr18Ni9Ti, 00Cr19Ni1000Cr17Ni14Mo2, A790/A790M UNS S31803, etc. Below we have listed a few questions that highlight key considerations to help you narrow down your choices and find the grade that best suits your needs or application. If you want to know all the standard grades of steel pipes, you can check our article here.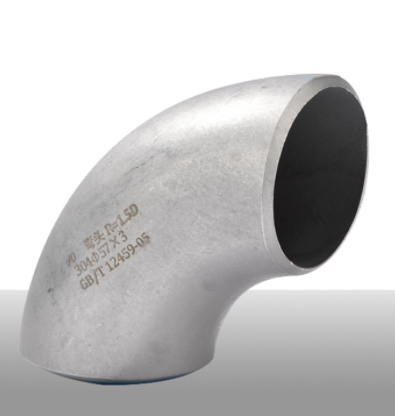 Stainless Steel Pipe Fitting ASTM A403/A403M WP316 Long Radius Elbow 4''
Formability
Poorly formable steels can become brittle and reduce performance if overworked. When complex or intricate forming is required, steels with low formability may not be able to retain their shape.
When choosing a steel grade, you need to consider the form you want to deliver. Whether you need bars, slabs, rods or plates, your choices will be limited.
Endurance properties
When you think of stainless steel, the first things that come to mind are probably resistance to acids and chlorides - for example in industrial applications or in the marine environment. However, heat resistance is also an important consideration.
Ferritic and martensitic steels should be avoided if you need corrosion resistance. For high temperature environments, austenitic steels are usually the best. Looking for grades with high levels of chromium, silicon, nitrogen and rare earth elements will further alter the steel's ability to withstand high temperatures.
Strength
The strength of a steel is an important factor when considering maximum safety. However, overcompensation can lead to unnecessary costs, weight and other wasteful factors. Strength characteristics are set loosely by the steel family, with further variations from grade to grade.
If you need high strength stainless steel, a precipitation hardening grade may be your best choice.
Welding
Welding stainless steels can cause problems, including thermal cracking, stress corrosion cracking and intergranular corrosion, depending on the grade of steel used. Low carbon grades can further improve weldability, while additives such as niobium can stabilise the alloy to avoid corrosion problems. Commonly used grades of stainless steel for welding include 304L, 316, 347, 430, 439 and 3CR12.
Cycle costs
All of the previous considerations relate to the most important issue when choosing a stainless steel grade - the life cycle cost. By matching the stainless steel grade to your intended environment, application and requirements, you can ensure long-lasting performance and excellent value.
Before deciding, carefully analyse the performance of the steel over its expected service life and the potential costs involved in maintenance or replacement. Finding the balance is essential for both short and long-term success.
With the large number of stainless steel grades and forms available, allowing experts to help highlight options and potential pitfalls is a great way to ensure you get the best stainless steel for your needs. PIPEFUN will use our experience to help guide you through the procurement process. View our extensive list of tubing products online, or drop us a line to discuss your requirements with a member of our team.