Pipe coupling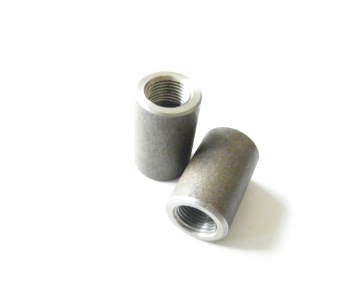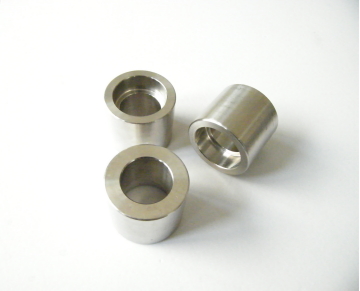 A pipe coupling is a short piece of pipe used to connect two pipes. Also called external connector. Because of its convenient use, pipe clamps are widely used in civil construction, Industry, agriculture and other fields. The main manufacturing standards for pipe collars generally include GB/T14383, ASME B16.11, and BS 3799.
Socket pipe hoop is a pipe connector made of round steel or steel ingot die forged and machined. Its connection form is bearing Socket Welding-SW, in which steel pipes are inserted into sockets for welding, therefore, it is called "Socket Welding-SW". The varieties of socket pipe clamps include double socket pipe clamps and single socket pipe clamps. The double socket pipe clamp of different diameter can also be divided into concentric and eccentric.
The socket ferrule is composed of a socket, a socket, a socket, etc. It is characterized in that there is a socket on the socket. The sockets are located at both ends of the curved part; compared with the prior art, the design is reasonable, the operation is simple, and the practicability strong, improve the quality and convenience of operation.
Socket pipe clamps can be widely used in pipes of different diameters, including single-way, three-way, four-way, etc., and can also be used for water meters and valves. Due to the socket structure, the pipeline joint reduces the cost, it is extremely convenient to repair, and at the same time it has a high leak-proof capability.
Swaged Nipple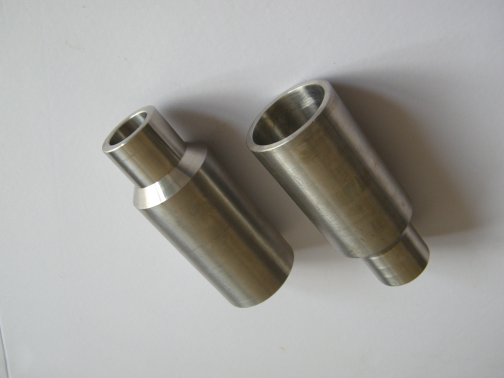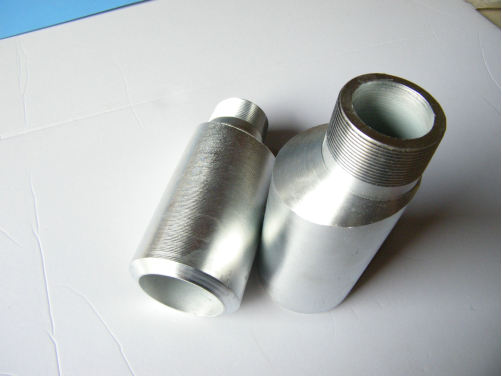 Generally, it is a fitting used to connect pipes of different diameters in pipe engineering.
There are differences in the form of butt welding thread connection. It is mainly suitable for departments and fields such as petrochemical industry, medicine and health, electric power, aerospace, military industry, fire protection, metallurgy, shipbuilding, gas, nuclear power, and environmental protection that require high pressure and precision dimensions.
Weldolet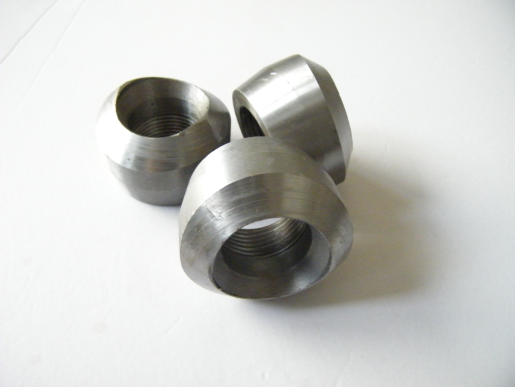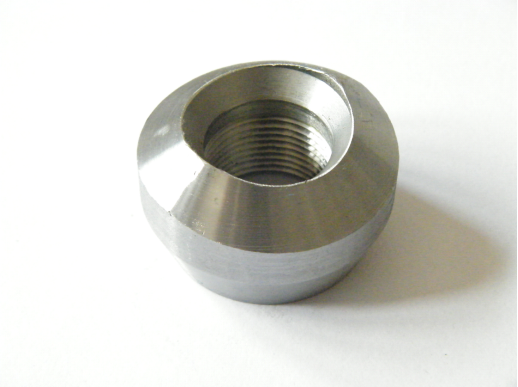 Branch pipe outlet, is also called branch pipe seat, saddle seat, saddle type pipe joint. There are butt welding connection, socket welding connection,
There are three types of threaded connection. Reinforced pipe fittings mainly used for branch pipe connection, instead of branch pipe connection types such as reducing tees, reinforcing plates, reinforced pipe sections, etc., are safe and reliable, reduce cost, simple construction, improve medium flow channels, series standardization, and convenient design selection And other outstanding advantages, especially in high-pressure, high-temperature, large-diameter, thick-walled pipelines are increasingly used, replacing the traditional branch pipe connection method.
The main body of the branch pipe station is made of high-quality forgings, and the materials used are the same as the pipe materials, including carbon steel, alloy steel, stainless steel, etc. Both the branch pipe seat and the main pipe are welded to connect with branch pipes or other pipes (such as short pipes, plugs, etc.), instruments, and valves.
Commonly used manufacturing implementation standards for branch pipe stations include MSS SP-97, GB/T19326 and other standards.
Forged Union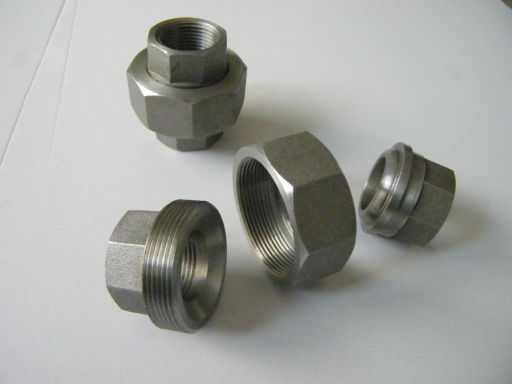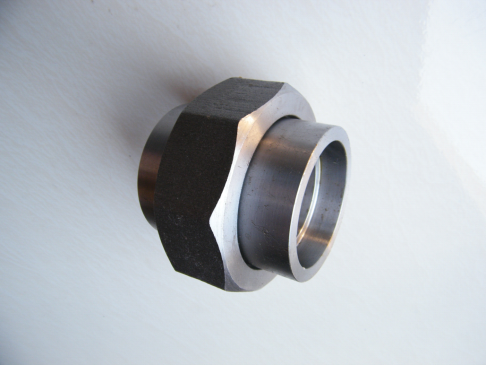 Union is a common pipe connector that can be easily installed and disassembled. It mainly consists of three parts: nut, cloud head, and flat joint. The pipe connectors are machined from round steel or steel ingots after die forging. Its connection forms are divided into socket welding and threaded connection. Both internal and external threads are called "threaded unions", and the main manufacturing standard is MSS SP -83.
The varieties of GB/T3287 socket unions have equal diameters and different diameters. Socket unions are composed of sockets, sockets, sockets, etc. Sockets (by any) are widely used in pipe connections of different diameters, and are also widely used in the connection of instruments, valves and pipelines.
Mainly suitable for petrochemical, medical and health, electric power, aerospace, military, fire protection, metallurgy, shipbuilding, gas, nuclear power, and environmental protection departments and fields that require high pressure and precision dimensions.
Threaded Forged Nipple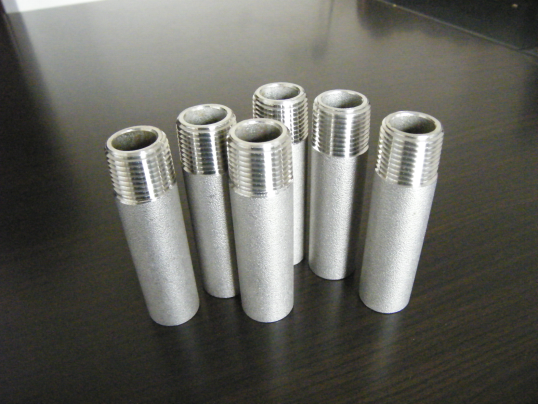 Threaded pipe fittings are pipe fittings that use taper pipe thread connection. They are only used for inch pipes, not for metric pipes. The threaded pipe fittings produced comply with the American ANSI B16.11 and GB/T14626 standards. There are 3 types of pipe threads commonly used in engineering pipelines:
1. ISO7/1 is an international general threaded sealing pipe thread, profile angle 55o, taper 1:16. There are two types of internal threads: parallel (Rp) and tapered (Rc). The external thread has only tapered R, commonly used as Rp-R, as shown in Figure a. It is used more in public works, while Rc-R is less commonly used.
2. ISO228 is an internationally used non-thread sealed pipe thread with a tooth profile angle of 55o. The internal and external threads are parallel.
3. ANSI B1.20.1 is American snail sealed pipe thread, profile angle 60o (NPT), taper 1:16. Both internal and external threads are tapered, which are commonly used pipe threads in high-temperature and high-pressure pipelines. AMSE B16.11 threaded pipe fittings commonly use NPT threads. NPT and ISO7/1 (commonly known as BSP), although the tooth profile angle is different, the pitches of 1/2 and 3/4 are the same and can be connected to each other.
PIPEFUN is a specialized enterprise professional in producing steel pipes and pipe fittings. Our products have passed the professional certification of ISO 9001 and API5L. Under one roof, you can have steel pipes and pipe fittings of ASTM standard, BS standard, DIN standard, JIS standard and so on. Welcome your enquiry!