Have you ever wondered what causes water to gush out of your faucet when you turn the valve on your sink? What causes gas to leak from your cylinder into your stove when you need a flame to satisfy your midnight hunger? Pipes, to be exact. Pipes have been around for a long time. Our ancestors invented this technology in 5000 B.C. and with it came pipe fittings.
What is a pipe fitting?
Pipe fittings are simply the installation and repair of pipes and ducts. However, this can be tricky when you don't participate in a proper plumbing certification program. We often encounter situations where we must alter, disrupt, reduce, avoid or reverse the flow of fluids through piping. Pipe fittings, also known as "fitters", are primarily responsible for this. It is mainly done through the interfaces between the two pipes that connect them. These interfaces are carefully selected according to the desired result. Pipes are manufactured from plastic, copper, aluminum, carbon steel and other materials. The role of the pipe fitter ensures that the correct pipe material is used for the correct purpose and setup.
Pipe Fitting Connections
Fittings are typically components used to connect pipe sections to numerous fluid control products, such as valves, compressors and pumps, to build piping. In today's generation, the common connotation of fittings is attributed solely to metal and plastic piping that carry fluids. However, many other variants of fittings are used primarily to create connecting piping networks for handrails and other building elements. These fittings often undergo a variety of processes to suit the desired application: they can be welded or threaded, chemically bonded or mechanically connected, depending on a variety of factors, including pipe material. This means that pipefitters are often trained in welding skills and other job requirements.
Pipe fitting material
The choice of pipe depends on the environment, material properties and working conditions. For example, metal pipes corrode quickly in acidic environments, so plastic or PVC pipes are a better choice. Repairing and maintaining piping is another responsibility. Any pipe reaches its maximum service life and must be replaced or repaired if unforeseen failures occur.
Stainless steel is one of the preferred materials for manufacturing pipe components. The main advantages of stainless steel are; ease of operation: stainless steel fittings are simple to make and can be professionally operated with simple training. The outstanding reason is that stainless steel has a consistent quality of work, improves efficiency and overcomes the complexity of installation techniques. The unique flexibility, impact resistance, shrinkage resistance, welding and expansion characteristics of stainless steel bevels tend to be more adaptable to temperature changes and reduce damage to major structural components.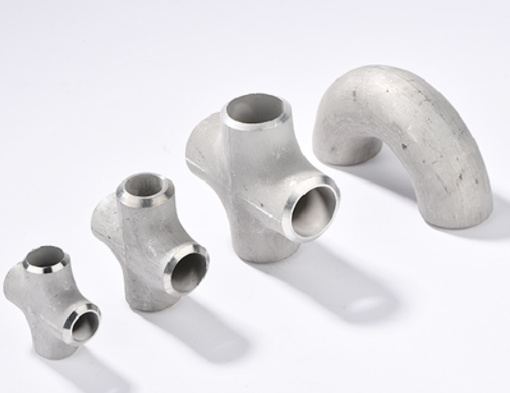 Types of pipe fitting interfaces
Interfaces are also known as fittings. Fittings are used to regulate the flow of material in a pipe. The appropriate fittings are selected according to the material flow. There are many different categories of pipe fittings. Some are given below.
Pipe elbows - Pipe elbows are used to change the material flow to a specific angle.
Tee structure - Three pipes can be connected at one point by a tee fitting or tee structure.
Reducers - Depending on the area ratio between the inlet and outlet of the reducer, the material flow is reduced. The larger the inlet area or the smaller the outlet area, the lower the material flow rate.
End Cap - As the name implies, it is attached to the end of the pipe to stop material from flowing further out of the pipe.
U-bend - The use of fittings to reverse the flow of material by rotating the flow 180°.
Often, through various components such as elbows and fittings, the pressure drop can be significant depending on the length of the system. These losses play an important role in the minimal inclusion of multiple such constrictions and straight pipes in a building. PIPEFUN specializes in custom fittings for you, so feel free to contact us!