What Does LSAW Pipe Stand for?
LSAW stands for Longitudinal Submerged Arc Welded. It refers to a specific type of steel pipe that is manufactured using the longitudinal submerged arc welding process. LSAW pipes are widely used in various industries, including oil and gas, construction, and infrastructure. Here's a comprehensive explanation of LSAW pipes: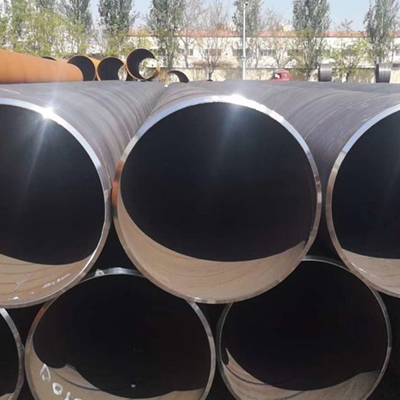 API 5L LSAW Steel Pipe for Water Use
Manufacturing Process:
LSAW pipes are manufactured through a multi-step process:
a) Plate Preparation: Large steel plates are sourced and inspected for quality. These plates are typically made of carbon steel or low-alloy steel.

b) Edge Preparation: The edges of the steel plates are beveled to form a V shape. This beveling allows proper alignment during the welding process.

c) Forming: The beveled plates are then formed into a "U" shape, forming the pipe's body. The edges of the U-shaped plates are tack-welded to hold the shape temporarily.

d) Submerged Arc Welding: The longitudinal seam of the U-shaped plates is welded using the submerged arc welding (SAW) process. A welding arc is created under a layer of flux, which protects the molten metal from impurities in the air. This continuous welding process runs along the length of the pipe, hence the term "longitudinal."

e) Expansion and Sizing: After welding, the pipe is expanded using a hydraulic system to achieve the desired dimensions. It is then passed through a series of rollers to ensure accurate sizing and roundness.

f) Ultrasonic Inspection: The welded seam is inspected using ultrasonic testing to check for any defects or discontinuities.

g) Finishing Operations: The pipe undergoes various finishing operations, including trimming the excess weld metal, removing burrs, and performing visual inspections.
Advantages of LSAW Pipes:
LSAW pipes offer several advantages, making them a popular choice in various applications:
High Load-Bearing Capacity: LSAW pipes have excellent load-bearing capabilities, making them suitable for conveying large volumes of fluids or for structural purposes.

Cost-Effective: LSAW pipes can be produced in large diameters and thicknesses, allowing for efficient transportation and installation. They offer a cost-effective solution for long-distance pipelines.

High Strength: LSAW pipes are made from high-quality steel plates, providing excellent strength and durability, even in harsh environments or high-pressure applications.

Good Dimensional Accuracy: The manufacturing process of LSAW pipes ensures good dimensional accuracy, resulting in pipes with precise diameters and consistent wall thicknesses.

Weld Quality: The submerged arc welding process used in LSAW pipes produces strong and reliable welds. The continuous welding along the length of the pipe results in a robust and uniform seam.

Versatility: LSAW pipes can be manufactured to meet specific project requirements, including different grades of steel, various sizes, and customized coatings for corrosion protection.
Applications of LSAW Pipes:
LSAW pipes find extensive use in various industries and applications:
Oil and Gas Pipelines: LSAW pipes are widely used for transporting oil, natural gas, and other fluids over long distances. Their strength, large diameter capability, and cost-effectiveness make them suitable for pipeline projects.

Structural and Construction: LSAW pipes are used in structural applications, such as building columns, piling, bridges, and infrastructure projects. Their high load-bearing capacity and durability make them ideal for these applications.

Water and Sewage Systems: LSAW pipes are utilized in water and sewage systems, particularly for large-diameter pipelines. They can handle high volumes of water and provide long-lasting performance.

Offshore Platforms: LSAW pipes are commonly employed in offshore oil and gas platforms for various applications, including risers, piling, and subsea pipelines.